The Round of 32 continues with the Midwest Region.
#1 Baylor 70, #8 LSU 61
After both 1 seeds lost in the South and East Regions, Baylor becomes the 1st 1 seed to advance to the Sweet 16 with a 70-61 win over LSU. Davion Mitchell led Baylor with 16 points and 6 steals. Baylor forced LSU into a turnover on 22% of possessions, an important factor in overcoming a big advantage LSU claimed on the offensive glass.
Baylor

LSU
#5 Auburn 63, #4 Louisville 52
Auburn came in with a focus on limiting the effectiveness of Louisville behind the arc, and that paid off. Louisville made just 2 of 16 attemps from three. Jordan Nwora simply wasn't effective, making just 2 of 10 shots. For Auburn, the offensive stuggled as well making just 35% of shots from the floor, but they did just enough to scrape out the win.
Louisville did take a 28-27 lead into halftime, but a drought in the second half proved to be too much to overcome. After a Dwayne Sutton made free throw cut the Auburn lead to 47-45, Auburn's 12-4 run opened the game up a bit and Louisville was never able to recover.
Auburn moves on to face #1 Baylor in the Sweet 16.
Auburn

Louisville

#6 West Virginia 60, #14 Bradley 53
West Virginia's defense proved to be too much as they defeated Bradley 60-53. West Virginia jumped out early taking a 36-22 lead into halftime. While Bradley made a valiant effort, cutting West Virginia's lead to 54-51 with 4 minutes left. West Virginia adjusted and managed to finish off a scrappy Bradley team and advance to the Sweet 16.
West Virginia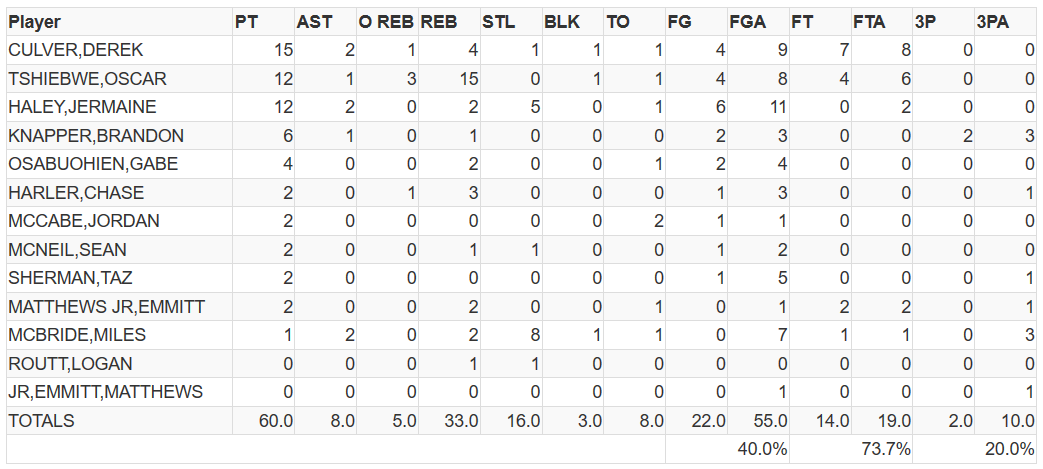 Bradley

#7 Illinois 75, #2 FSU 71
Illinois jumped out early on FSU taking a 35-27 lead into halftime. The Seminoles struggled shooting the ball throughout, but a cold spell in the first half was particularly important as the Noles managed to score just 6 points in the final 8 minutes of the half.
The Seminoles scraped back into the game and 2 free throws by Raiquan Gray cut the Illinois lead to 70-67. A Patrick Williams dunk cut the lead even closer to 72-71, but a Kofi Cockburn putback on the other end gave Illinois a 74-71 advantage. An empty trip for the Noles turned into a quick foul and put Andres Feliz who made a free throw to clinch the victory at 75-71.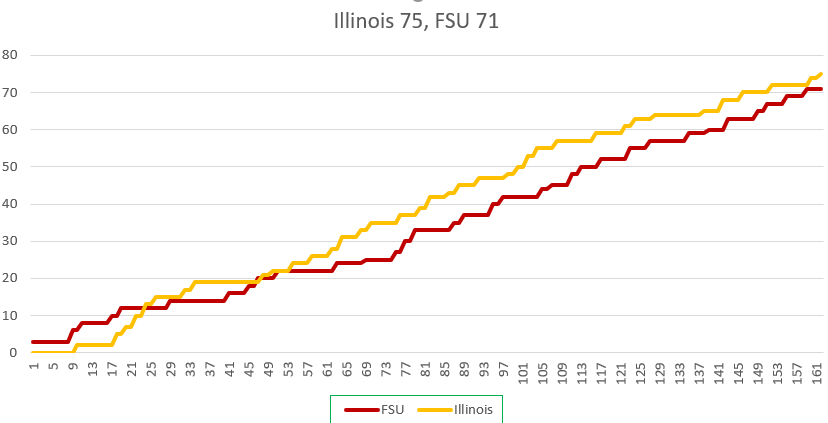 Illinois

FSU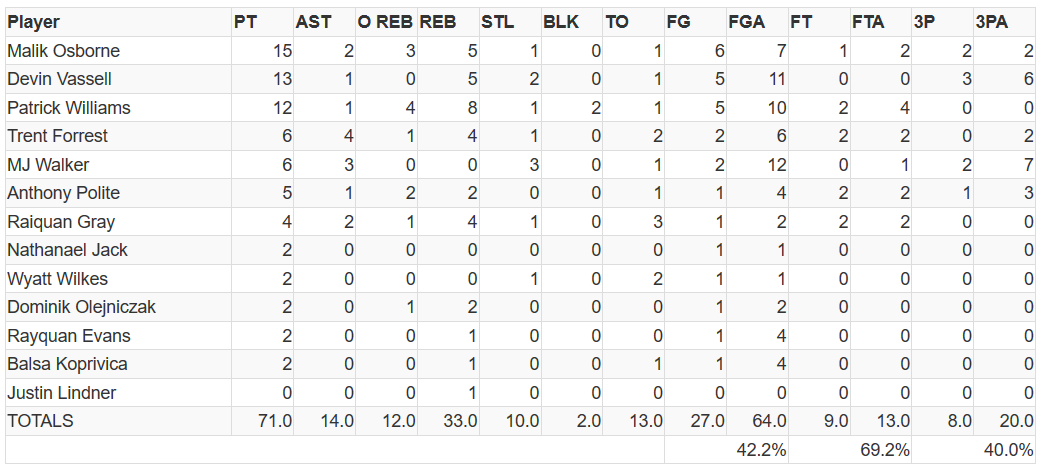 NCAAGameSim.com Tournament Updates