Danny Green took in a lot of information and accepted a substantial amount of instruction during the 10th Annual Sportscaster University event.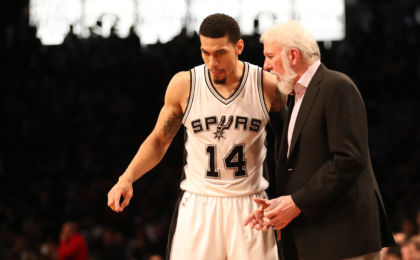 At the event commonly referred to as Sportscaster U, Green was accompanied by Sacramento's Langston Galloway, 76ers guard Gerald Henderson, former Milwaukee Bucks forward Steve Novak and Miami Heat reserve Willie Reed.
After attending the course, Green told the San Antonio Express-News, "I respect what guys do so much more. They make it look easy, but you realize it's not easy."
Green also stated that the players were promised a different way to view television and an answer to whether or not this career path was suitable for them.
Green majored in communications at the University of North Carolina before his professional basketball career took off. That may bode well for his post-basketball endeavors.
Green's former Spurs teammate Matt Bonner completed the Sportscaster U course several years ago and currently works as a studio analyst on the Spurs' television broadcast. Watching Bonner pursue this field made Green more interested in this opportunity.
Sportscaster U has been around for nearly 10 years. According to the NBAPA, around 60 players have graduated from the program, which takes place at Syracuse University.
Some notable former NBA players who have attended Sportscaster U include Shaquille O'Neal, Tony Battie, Danny Granger, Richard Hamilton, Casey Jacobsen and Brevin Knight. All of these individuals are current analysts or color commentators for local and/or national networks.
Green's playing days are still plentiful, but he's already preparing for life after basketball. Based on his personality and charisma, expect a lot of excitement and humor when Green becomes one of the guys breaking down plays before and after games.
One question remains to be answered, though. Will he do his patented pre-game dance on camera, similar to his Tar Heel days in the Dean Dome?
This article was originally published at http://keepingitheel.com. If you are interested in sharing your website's content with SCACCHoops.com, Contact Us.