We're down to the final 16 teams in the NCAAGameSim.com Tournament.
#8 Providence 62, #4 Wisconsin 49
David Duke and the Providence Friars head to the Final 8 with a 62-49 win over Wisconsin. With 18 minutes left in the game Wisconsin led 40-32 and seemed in control of the game. The Badgers managed to score just 9 points in the final 18 minutes in one of the most brutal offensive displays in tournament history. Providence ended the game on a 13-2 run to seal the win.
Providence

Wisconsin

#7 Arizona 71, #11 Wichita State 43
Wichita State's magical run came to the end in a disastrous way as Arizona blew out the Shockers 71-43. Wichita State made just 22% of field goal attempts and turned it over 15 times in the loss. Josh Green led the way for Arizona with 15 points, while Nico Mannion added 12 points and 8 assists. Arizona moves on to the Final 8 to face Providence.
Arizona

Wichita State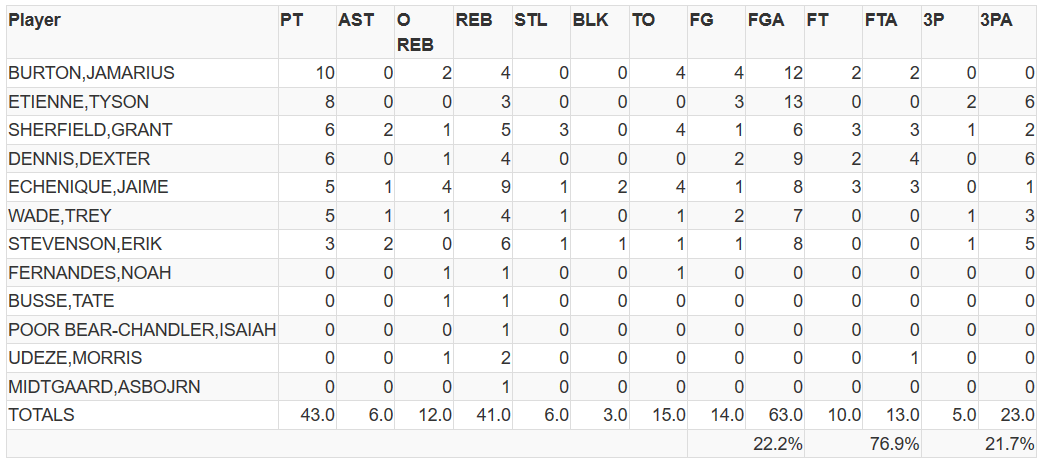 #1 Dayton 99, #4 Kentucky 69
In what was touted to be the best matchup of the Sweet 16, the Dayton Flyers came in and reminded everyone why they were a #1 seed with a 30 point route of #4 Kentucky. Dayton scored 1.35 points per possession, making 67% of their 2 point attempts and 10-26 from long range. Obi Toppin scored 24 points and added 7 rebounds in the victory.
Dayton

Kentucky

#6 Iowa 68, #7 Virginia 49
Luka Garza led Iowa to a 68-49 victory over Virginia to send the Hawkeyes to the Final 8. Garza scored 16 points and added 10 rebounds while no Virginia played scored in double-figures. Virginia shot just 28% from the field and 5-20 from 3 point range. Iowa will face Dayton in the Final 8.
Iowa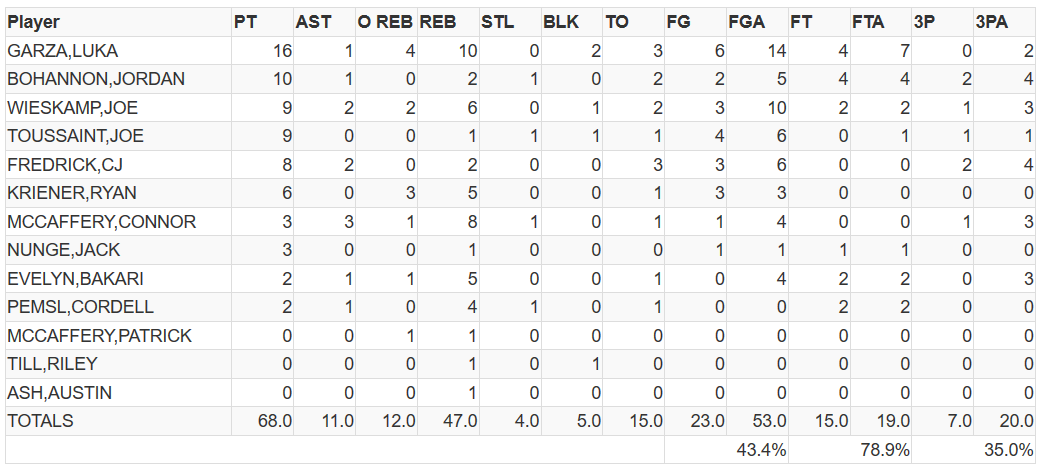 Virginia

#4 Oregon 84, #8 Saint Mary's 59
Oregon advanced to the Final 8 with a 84-59 win over Saint Mary's. Chris Duarte and Payton Pritchard led Oregon in scoring with 22 points a piece. Oregon was a force on the offensive glass grabbing 37% of their own misses.
Oregon

Saint Mary's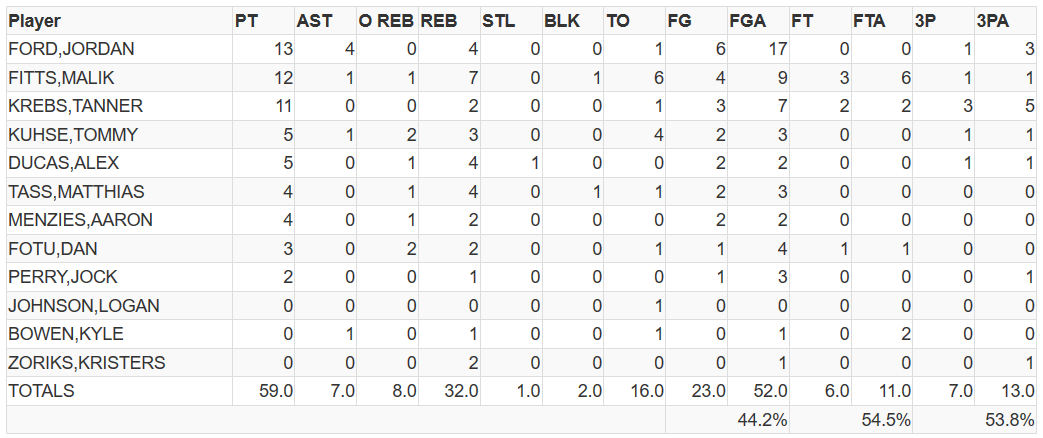 #11 Utah State 78, #2 Villanova 70
The shoe still fits for Utah State as the 11 seed advances to the final 8 with a 78-70 win over Villanova. At half, Utah State led 36-32 and it stayed that way for the first several minutes of the 2nd half.
After a 9-2 Villanova run capped by Justin Moore, the Wildcats suddenly led 62-58 with 7 minutes remaining. Utah State answered immediately with a 7-0 run of their own and recaptured the lead. Villanova once again fought back with 6 straight points to take a 68-65 lead, but Diogo Brito's 3 tied the game at 68. Utah State finished the game on a 10-2 run though as Sam Merrill and Diogo Brito made big plays down the stretch.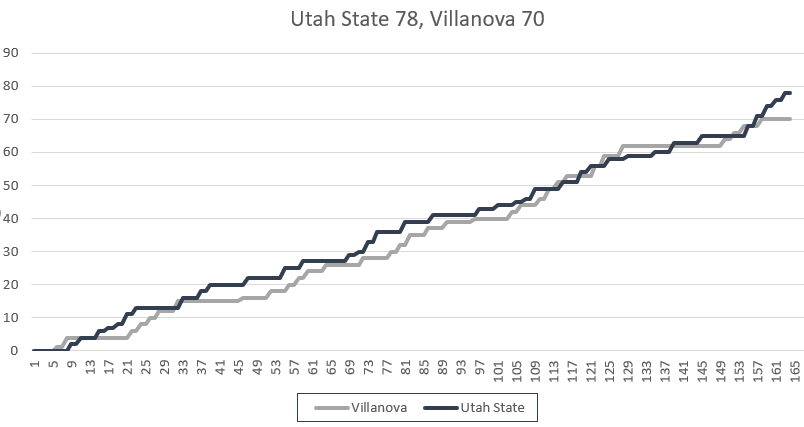 Utah State

Villanova

#1 Baylor 69, #4 Auburn 56
Baylor becomes the second 1 seed to advance to the Final 8 as the Bears cruise to a 69-56 win over Auburn. At half, Auburn led 32-29 but Baylor started the second half on an 8-0 run to take a 37-32 lead. Auburn battled back to tie the game at 45 with 12 minutes left, but 5 Baylor made three pointers in the final 10 minutes to help open it up late.
Baylor

Auburn

#6 West Virginia 75, #7 Illinois 73
It took more than 40 minutes to decide the final matchup of the Sweet 16. West Virginia and Illinois needed two overtimes before West Virginia finally emerged the winner 75-73.
At the end of regulation, Derek Culver went to the free throw line with a chance to win the game but made just 1 of 2 free throws and sent the game into OT.
In the first overtime, West Virginia jumped out to a 62-56 and appeared to sieze some control of the game. Illinois then scored on 4 straight possession and when Giorgi Bezhanishvili found Benjamin Bosmans-Verdonk for a layup the game was tied at 68 and headed to double overtime.
The second overtime looked more like regulation as defense took the upperhand once again. West Virginia took a 73-70 lead on a Miles McBride 3 point shot. Illinois then turned the ball over on back to back possessions, one a steal by McBride, the other on a steal by Oscar Tshiebwe which led to two free throws and a 75-70 West Virginia lead.
West Virginia advances to face #1 Baylor in the Final 8.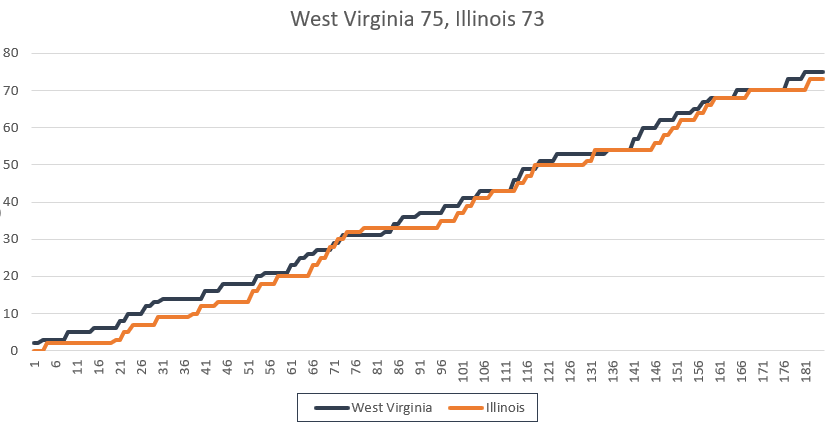 West Virginia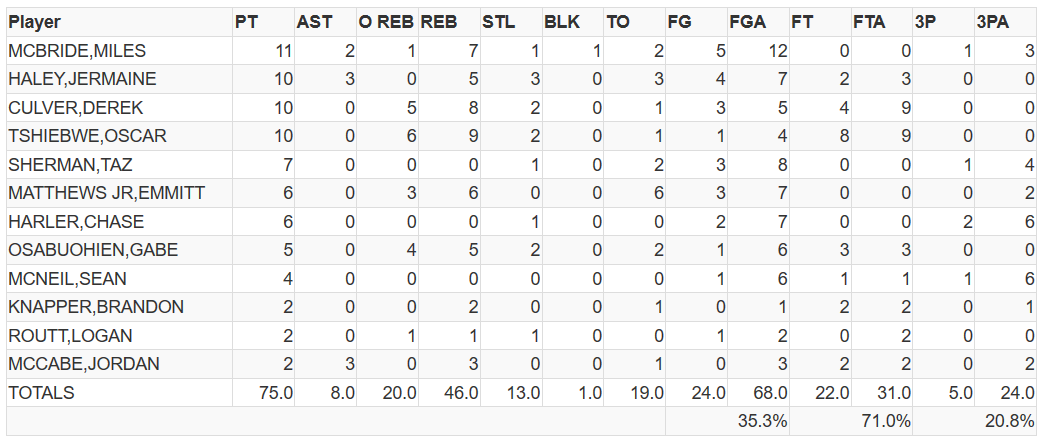 Illinois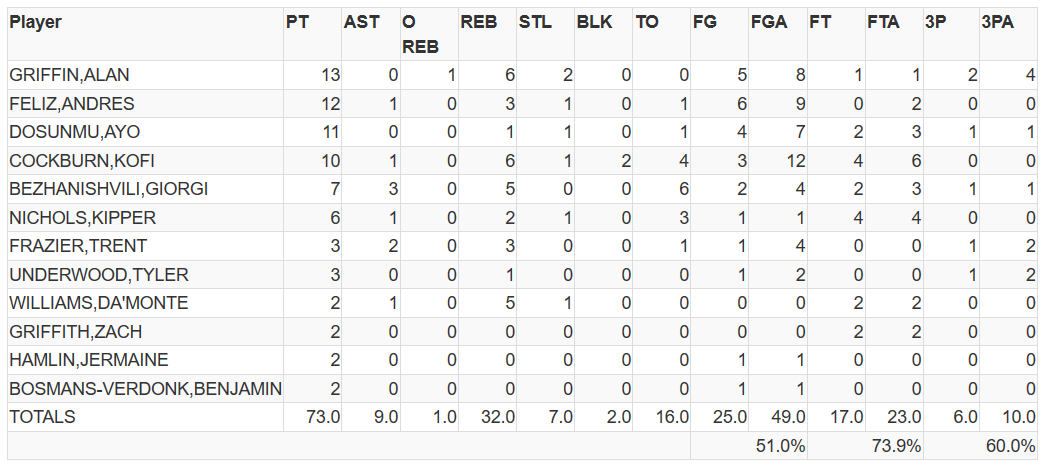 NCAAGameSim.com Tournament Updates