The Round of 32 continues with the results from the East Region.
#8 Saint Mary's 81, #1 Gonzaga 69
Note: In a normal tournament scenario, two conference opponents wouldn't matchup in the 2nd round. Going with BracketMatrix.com with a consensus bracket made this difficult to overcome.
In their 4th matchup of the season, Saint Mary's finally finds a way to topple Gonzaga. Jordan Ford was the star, scoring 22 points and making 4 three pointers in the win.
Despite trailing most of the game, Gonzaga trailed by just 1 point with 8 minutes remaining, but an 12-1 run by Saint Mary's sealed the win. The difference in this one was behind the three point arc where Gonzaga made just 5 of 20 attempts, while Saint Mary's made 10 of 24 three point attempts.
Saint Mary's

Gonzaga

#4 Oregon 67, #5 Butler 66
At half, Butler led 33-28, but Oregon fought back and won a close won 67-66 to advance to the Sweet 16
A Kamar Baldwin layup tied the game at 64 with 1:35 left. A 3 by Oregon's Chris Duarte gave the Bears a 67-64 lead with 1:01 left. From there, 4 consecutive empty trips setup the final Butler possession where the Bears fouled while up 3 points. Butler's Kamar Baldwin went to the line and calmly made the first free throw. With just 2.1 seconds left, Baldwin attempted the miss the second but saw the ball go in and allow Oregon to advance to the Sweet 16.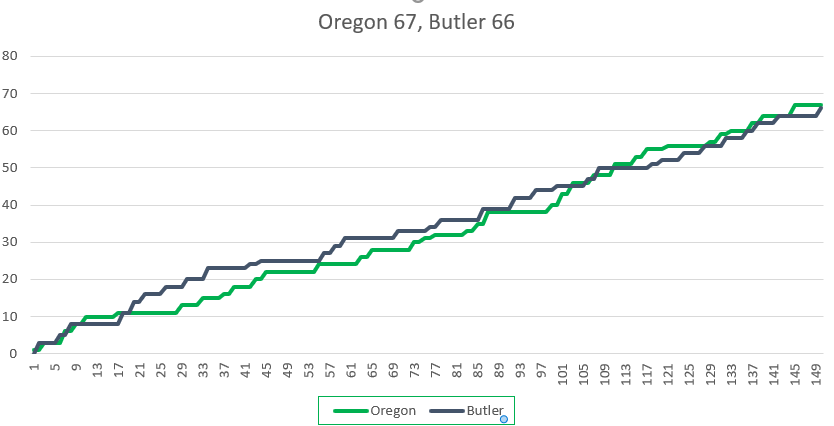 Oregon
Butler

#11 Utah State 89, #14 Hofstra 64
The darlings of the first round, Hofstra, saw their run come to an end as 11th seeded Utah State advances to the Sweet 16 with a 89-64 win. Sam Merrill led the way with 21 points and 6 assists to lead Utah State to the victory.
Utah State

Hofstra

#2 Villanova 69, #7 Houston 65
It wasn't easy, but Villanova advances to the Sweet 16 with a 69-65 win over Houston. The big factor in the win was Houston's inability to take care of the ball. The Cougars turned the ball over on 26% of their possessions resulting in a number of fastbreak opportunities for Villanova. This became especially true when Villanova started to press with 12 minutes remaining and Houston up 50-43. Houston managed to turn the ball over 8 times in the final 10 minutes of the game and watched their lead crumble and ultimately Villanova advance.
Villanova

Houston

NCAAGameSim.com Tournament Updates