Clemson enters the 2013 season with expectations as high as ever. After beating LSU in the Peach Bowl (a win that the ACC is still hanging its hat on) to finish the season at 11-2, the Tiger faithful are thinking BCS Bowl or bust this season. With ACC Player of the Year, Tajh Boyd, returning to run offensive coordinator Chad Morris' offense, there should not be any drop-off in offensive productivity. Defense will continue to be the main concern, but in terms of talent, Clemson is surpassed only by Florida State.
OFFENSE

As previously alluded to, the offense is by far the strength of this Clemson Tigers team. With Boyd returning, there should not be any issues with how the offense hums. However, losing leading receiver DeAndre Hopkins and leading rusher Andre Ellington could create some issues, at least early on.
Boyd put up some record numbers last season with 3,896 yards and 36 touchdowns, but will look to reduce his tally of 13 interceptions. As the favorite to repeat as ACC Player of the Year, there will be great expectations placed on him this season. How he handles this pressure will be the key, as his talent is not in question at all.
Replacing Ellington may be the biggest challenge for the offense. Boyd is the Tigers' leading returning rusher with 514 yards in 2012. There are a few capable replacements, however, in Roderick McDowell, D.J. Howard, and Zac Brooks. McDowell looks to be the starter coming out spring practices. He had 450 yards on 5.4 yards per carry in 2012, which was actually higher than Ellington's average. The running game will have some experience in front of it, with two seniors, two juniors, and a sophomore expected to start on the offensive line.
Sammy Watkins expects to return to his electrifying freshman season form in the absence of Hopkins. Watkins' numbers decreased from 82 receptions, 1219 yards, and 12 touchdowns to 57/708/3 last season. If he stays healthy and out of trouble this season, there is no reason that Watkins won't approach those numbers this year. Junior wideouts Charone Peake and Martavis Bryant will look to become the second and third options in the passing game. Replacing Brandon Ford at tight end will likely be Stanton Seckinger. Ford finished last season with 40 receptions for 480 yards and eight touchdowns, good enough for first team all-ACC.

DEFENSE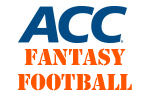 The defensive side of the ball has been the question mark for the Tigers under Dabo Swinney's watch, and it will be again this year (at least compared to the offense). The Tigers saw a modest improvement in year one under defensive coordinator Brent Venables, but still have room for improvement. Venables came over from Oklahoma to replace Kevin Steele and immediately lowered Clemson's points per game allowed from 29.3 to 24.8 (from 81st in the country to 48th).
The Tigers will be a young team on defense, but with no lack of talent thanks to several years of good returns on the recruiting trail. Linebackers Spencer Shuey and Quandon Christian, two of the three seniors expected to start on defense, should be solid if unspectacular. Juniors Stephone Anthony and Tony Steward, both five star recruits out of high school, are the other notable linebackers. Anthony could have a big year at middle linebacker. On the defensive line, the Tiger faithful are expecting big things out of end Vic Beasley and tackle Grady Jarrett. Jarrett had a strong finish to 2012 and hopes to carry that momentum into 2013. The front seven has great depth, so the pressure is on the starters to perform at a high level. In the secondary, hard-hitting safety Travis Blanks and senior cornerback Darius Robinson are the names of note.

SPECIAL TEAMS

The kicking game has been an issue in the past for the Tigers, but last season was a major step forward. Chandler Catanzaro surprised some by making 18 of his 19 field goal attempts, with his only miss coming from over 40 yards out. The room for improvement here is to perhaps extend his range (his longest attempt being 50 yards, which he did make). Sophomore Bradley Pinion has a powerful leg, but was only needed nine times last season thanks to Morris' high-powered offense. In the return game, the Tigers are set thanks to a plethora of speedy athletes. What will be interesting here is to see often Sammy Watkins is used.

SCHEDULE

Clemson opens the season with a bang, against probable top 10 team Georgia in Atlanta on August 31. The other non-conference opponents are South Carolina St, The Citadel, and the season finale in Columbia against hated rival South Carolina. Clemson has a relatively simple conference schedule, and get Florida State at home. The other home ACC games are Wake Forest, Boston College, and Georgia Tech. Conference games on the road are NC State on a Thursday night primetime game, Syracuse, Maryland and Virginia.

PREDICTION

I expect much of the same from Clemson this season. The offense should not lose much, if any, of its punch from last season, and the defense will likely replicate the numbers from last season. The conference schedule sets up very well for a 7-1 or 8-0 season. The non-conference schedule includeds two huge challenges mixed with two cupcakes. I expect the Tigers to split the games between Georgia and South Carolina and finish at either 10-2 or 11-1 and make the ACC Championship game. Getting Florida State at home this season could be what puts them over the top in the Atlantic Division. It is not out of the realm of possibility for Clemson to go undefeated, but we all know that Clemson has had a hard time avoiding slip-ups in the past.
More Previews