Today, we continue our Game Sim predictions with the Midwest and East regions.
Yesterday, I posted the Game Sim predictions for the South and West regions. On Wednesday, I'll post the final four results. Make sure to check the #GameSimKnowsAll hashtag on twitter for all Game Sim related information.
Midwest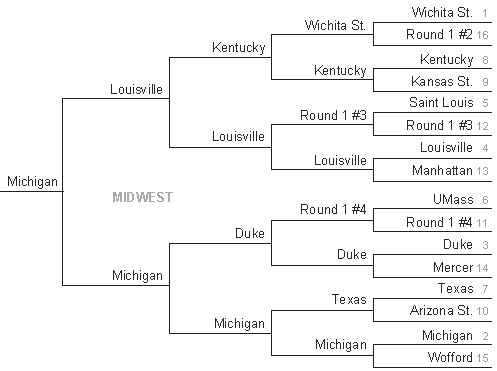 Notes
A 1 Seed falls in the 2nd round here, as Game Sim thinks Kentucky's athleticism and talent will be too much for Wichita State.
Regardless of who wins tonight's play-in game between Xavier and NC State, it likes the that team to beat Saint Louis and advance to the round of 32. Game Sim does have the Pack winning tonight.
Iowa is predicted to win the other first four matchup and once again Game Sim likes the Hawkeyes to make it to the round of 32 with a win over UMass.
Duke wins two games, but gets beat by Michigan in the sweet 16 and the Wolverines beat Louisville to advance to the Final 4.
East Region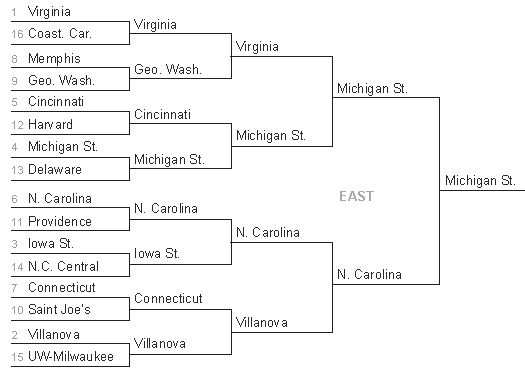 Notes
A lot of chalk early in this bracket with George Washington the only exception winning as a 9 seed in the first round.
UNC gets three wins to get to the final 8 but falls to Michigan State.
Virginia wins their first two fairly easily, but Michigan State was too much for Virginia to handle.
Michigan State takes down UNC to head to the Final 4 out of the East region.