A new era begins for Pitt football with their transition to the ACC. The Panthers have made bowl games in five straight years, and 10 out of the last 13 in the former Big East conference. They make their debut with a second year coach in Paul Chryst, who unlike their previous coach, stayed for his second season. He faces stiffer competition in the ACC, and is going to have a tall task ahead of him if he wants to take Pitt to a sixth straight bowl game.
Offense
The Panthers are returning five starters on offense this season. But they lost their top two rushers, their leading receiver, and their starting quarterback. Their new starter, Tom Savage, is no stranger to Pitt, having faced them when he was at Rutgers. The problem is he hasn't thrown a pass in a game since early in 2010. He lost his starting job due to injury, then transferred to Arizona, and then back to Pitt. After sitting out last season, he will get the chance to lead the Panthers. But the questions don't end there. He will have a running back in Isaac Bennett who is the team's leading returning rusher with 141 on just 29 carries. Savage does get the number two receiver back in Devin Street, who finished 25 yards short of 1000 last season.
Pitt's offensive line was really strong last season, as four running backs averaged over 4.0 yards per carry. There is some turnover this year obviously, but it still should be strong on the right side especially. There are two redshirt freshman slated to start on the line, and that could be a question mark heading in to the season. But the starters that return have a lot of experience, so I don't think there will be much of a dropoff from last season. Most importantly, the quarterbacks were sacked 38 times last season, which is still high, but that was a marked improvement from 2011, when they allowed the quarterback to be sacked 64 times.
Defense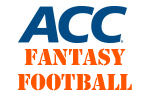 Despite losing the defensive coordinator, the defense should still be in good shape. Eight starters return from a defense that gave up 21 points per game last season. Six of the top eight leading tacklers from last season return, led by safety Jason Hendricks. The senior also led the team in interceptions with six, which is why he is on the preseason All-ACC first team. Along with Hendricks, both starting cornerbacks return, so the pass defense should be good again this year.
There's plenty of experience in the front seven as well, with five of seven starters back. The player to watch is DT Aaron Donald. He wreaked plenty of havoc in the opposing backfield for the Panthers last season. He lead the team in sacks with 5.5, but registered 18.5 tackles for loss. He also had 11 QB hits, far and away the team leader. He and Tyrone Ezell team up to make a pretty tough team to run up the middle on. And don't forget Shane Gordon at linebacker as well. He had 6.5 TFL and six pass break ups last year.

Special Teams
Kicking was shaky at time for Pitt last year with Kevin Harper, who was 13-20 from beyond 30 yards. Despite his loss, kicking will still be a question mark, as the Panthers will rely on a freshman kicker in Brad Lukasak. On the other hand, punting has been pretty solid. Matt Yoklic has been a pretty solid punter, averaging 41.8 yards per punt last year.
Schedule
Pitt gets an immediate ACC welcome hosting Florida State on Labor Day night before getting in to the meat of their schedule, which includes non conference games with New Mexico and Old Dominion, a FBS newcomer, and Notre Dame at home, and playing Navy on the road. Aside from FSU, the Panthers get Virginia, UNC, and Miami at home, and facing Duke, Virginia Tech, Georgia Tech, and Syracuse on the road.
Prediction
Year number one in the ACC could be a bit of a rough one. While Tom Savage showed promise when he played at Rutgers, there is the issue of him not throwing a pass in a game in nearly three years. And with the relative inexperience at running back, the offense could be in for a rough start. The defense should be solid again, but they are also playing teams like FSU, Virginia Tech, and Miami who are on a whole different level from anyone else Pitt has played, maybe with the exception of Notre Dame. I think they will barely miss a bowl this year.
More Previews