Last year, we launched (rather quietly) our ACC Fantasy Football game. This year, we're back and I've made an attempt to make sure the word gets out. The feedback from the "soft launch" last year was really good, and I think you'll enjoy playing ACC Fantasy Football on SCACCHoops.com. So, what do you need to know about the game?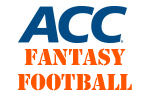 First, the game is just like NFL Fantasy Football in a lot of ways. You'll draft a roster that will meet your league's roster rules. Your commissioner will be able to customize this. You'll play head-to-head with another owner in your league each weekend and hopefully win a lot of games. At the end of the season, there is a playoff and the last man standing is the champion. Congrats again to @BrianSechrest for topping me in our championship game (how he beat the guy that created the game is beyond me) last year.
Like our basketball game, we have our fantasy scoring embedded in our football live stats. If you're logged in you'll see an extra tab so that you can see how many fantasy points players have in the game you are viewing.
You might be wondering what you need to do next. First, you'll need to either login to the site if you already have an account or register an account before you can do anything. Then, check out the links below to get your league started.
Create a Private League - if you want to be the commissioner and invite your friends
Create a Public League - if you want to be the commissioner and allow anyone to join
Join a Public League - if you are interested in joining a league
As always, if you have questions you can email me or contact me on twitter.