Gonzaga and the rest of the East Region jump into action.
#1 Gonzaga 103, #16 Boston University
Filip Petrusev put together the performance of the tournament thus far scoring 30 points and adding 9 rebounds. Gonzaga posted an offensive efficiency of 139 in the victory.
Gonzaga

Boston University

#8 Saint Mary's 83, #9 Florida 73
Florida led by as many as 7 points in the second half, but Saint Mary's and Jordan Ford ultimately were too much for the Gators. Ford scored 31 points and made 6 3's to lead the Gaels to the victory and a 2nd round matchup with Gonzaga.
Saint Mary's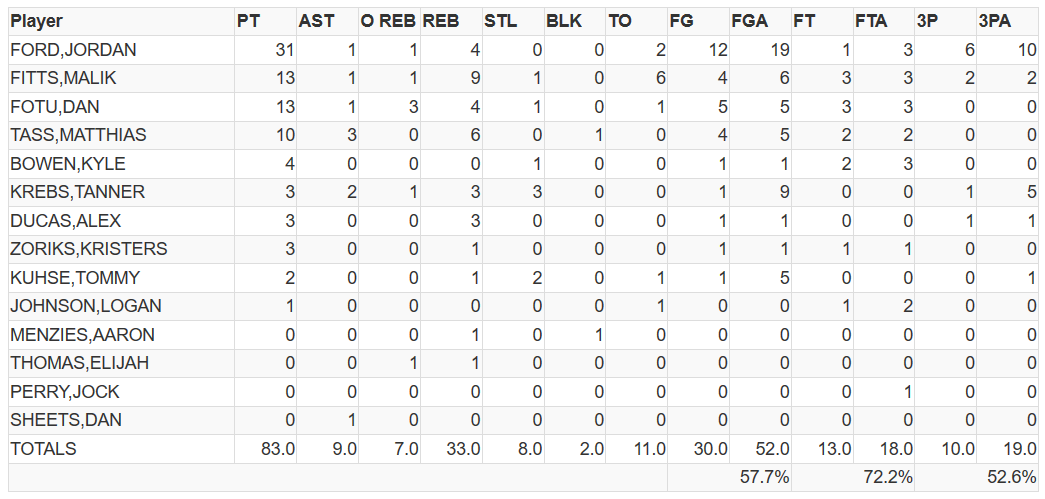 Florida

#5 Butler 83, #12 Stephen F Austin 57
Butler started out hot in the first half and cruised into halftime with a 40-20 lead and never looked back in the final 20 minutes. Kamar Baldwin led the way with 27 points as the Bulldogs advance.
Butler

Stephen F Austin

#4 Oregon 98, #13 Vermont 63
Oregon advanced with a 35 point victory over Vermont in which Oregon scored 1.37 points per possession. Payton Prichard led all scorers with 24 points and added 12 assists in the victory.
Oregon

Vermont

#14 Hofstra 90, #3 Duke 89
The biggest upset of the tournament just happened, and its the Duke Blue Devils going down to Hofstra 90-89.
A layup by Wendell Moore with 3 minutes to go in the first half gave Duke a 45-38 lead, but a quick 6-0 run by Hofstra made it Duke 45, Hofstra 44.
The 2nd half saw Duke have a 78-72 lead with 8 minutes remaining, but an Eli Pemberton 3 capped a Hofstra 9-0 run and give Hofstra a 81-78 lead. In the final minute Hofstra led 90-85, but a steal and layup by Jordan Goldwire and a putback by Vernon Carey brought Duke within 1. Duke had a final chance at a game-winner, but a Matthew Hurt's 18 footer rimmed out. Hofstra advances to the round of 32 and Duke's season will end in agony.
Hofstra

Duke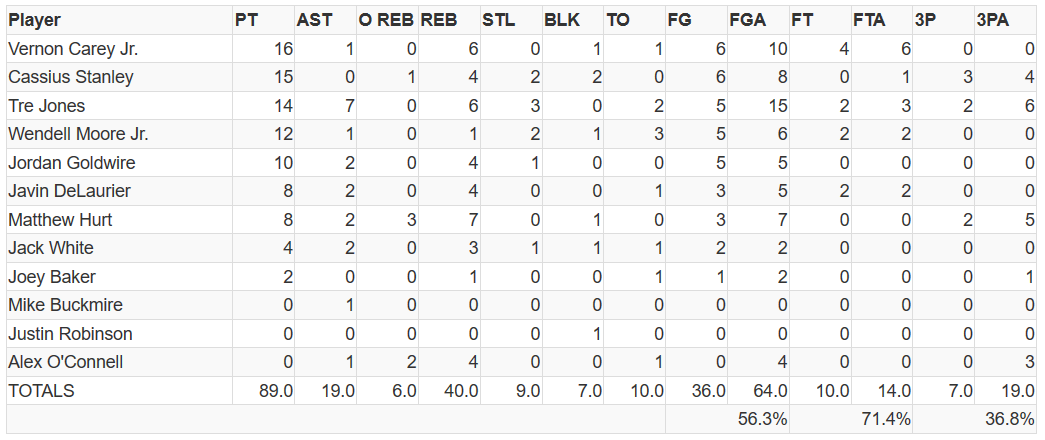 #11 Utah State 65, #6 Penn State 54
The upsets continue in the East Region as Utah State advances with a 65-54 win over Penn State. Utah State ran out to a 22-5 lead to start the game, and the Utah State defense held the lead the remainder of the game. Penn State shot just 31% from the floor in the loss. Utah State advances to take on #14 Hofstra in the Round of 32.
Utah State

Penn State

#7 Houston 87, #10 Indiana 68
Houston took a 42-35 lead into halftime. While Indiana cut the lead to as close as 4 points at 60-56, the Hoosiers could get no closer. Houston closed the game on a 27-12 run with a balanced scoring attack. The Cougars dominated the offensive boards grabbing 41% of their own misses.
Houston

Indiana

#2 Villanova 59, #15 North Dakota State 57
The chaos in the bottom half of the East Region nearly continued but #2 Villanova managed to escape with a narrow 59-57 victory. North Dakota State jumped out to a 18-14 lead after the first 10 minutes, but it seemed Villanova righted the ship taking a 28-23 lead into halftime.
It looked like Villanova would grind out a victory as they led 56-49 with 2 minutes left, but North Dakota State tied the game at 57 on a Tyson Ward jumper. Collin Gillespie proved to be the hero for Villanova driving to the basket and getting fouled with 3.5 seconds left. Gillespie calmly knocked down both free throws to make it a 59-57 Villanova lead. A miss by Tyler Witz ended the hope of #15 North Dakota State's upset chances.
Villanova

North Dakota State