After a promising start to the 2012 season, things went south for Wake Forest and the Demon Deacons failed to make a bowl game. Blowout losses at NC State and Notre Dame, as well as at home to Vanderbilt, lessened optimism for this coming year. With a relatively easy non-conference schedule and winnable ACC games on the slate for 2013, Wake could see a return to a bowl game this season. Jim Grobe may need a bowl game to solidify his standing as the head of the Deacs, so he will be motivated to put together a solid season.
Offense
Tanner Price returns for what seems like his eighth season to lead the Demon Deacons at quarterback. Price finished 2012 with 12 touchdowns on 2,300 yards against 7 interceptions. The touchdowns and yards will need to go up this year to get Wake to that next level. This may be a bit of a struggle with three offensive linemen gone from last year. There is some talent returning to the unit, as well as several talented freshmen who may see time here.

The skill positions may be the strength of this team. Senior wide receiver Michael Campanaro is one of the most electric players in the conference, and the Deacs will need him to stay healthy for more than 10 games this season. Wake will need another receiver to step up and hope that at least one of Sherman Ragland III, Brandon Terry, Orville Reynolds, and Matt James fills that role. Tight end appears as if it will be manned by senior Spencer Bishop.

The running back position got a big boost when senior Josh Harris was reinstated by the NCAA. Harris, who also had to fight through some injuries, finished with 608 yards and 5 touchdowns. He'll have some help carrying the load from sophomore DeAndre Martin, who had 484 yards and 6 touchdowns in 2012.

Defense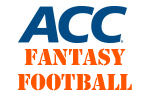 The Demon Deacons' defense returns eight starters from a 2012 unit that struggled to 88th in the nation in total defense. The defensive front in the 3-4 system returns all senior starters, namely Nikita Whitlock. Whitlock is an undersized tackle who, like Tanner Price, seems like he's been around forever. Whitlock, like the offensive standouts, was hampered by injuries last season. He will need defensive ends Kris Redding and Zachary Thompson to help keep opponents from double-teaming him.

The linebackers look as if they will be strength of the defense. Senior Justin Jackson had a breakout year with 88 tackles and 4 sacks and will look to continue that progress. Senior Mike Olsen and junior Zachary Allen look like they will be solid, if unspectacular, complements to Jackson. Sophomore Brandon Chubb has earned rave reviews lately and appears to be the fourth starter. There is solid, young depth here if the injury bug bites again this season.

Juniors Merrill Noel and Kevin Johnson are on the verge of becoming lockdown corners. Johnson tied for the team lead with three interceptions as a sophomore. Noel was, stop me if you've heard this before, also nagged by injuries last season. Senior A.J. Marshall and sophomore James Ward look to be the starters at safety. Their success this season became even more critical since senior Duran Lowe was dismissed from the team.

Special Teams

Wake Forest will have two sophomores who got experience in 2012 at the kicking positions. Chad Hedlund was a perfect 3-3 in field goals as a freshman while punter Alex Kinal punted 95 (!) times in his first season. Campanaro should be the first option in the return game, but athletes from both side of the ball could help him out here.

Schedule

The Demon Deacons have a non-conference schedule that sets up nicely for them to make a bowl game. An opening game with Presbyterian as well as hosting Louisiana-Monroe and traveling to Army provide the Deacs with three likely wins, but a closing game at Vanderbilt will be a stiff test. In conference play, Jim Grobe's troops will host NC State, Maryland, Florida State, and Duke. Trips to Boston College, Clemson, Miami, and Syracuse round out the schedule.

Prediction

If Wake can avoid the injuries of last season, there is no reason they have the talent and schedule to get to six wins. With a wealth of experience at most positions, I think the Demon Deacons can get to at least this number. Grobe is a good coach that knows how to maximize the talent he has to work with. Campanaro will make at least second team all-conference and Grobe will keep his job with a bowl appearance.
More Previews