Disappointment can be a pretty good way of describing the 2012 season for Virginia Tech. The seven wins the Hokies tallied was the lowest win total since 1997, and the first time since 2003 the Hokies failed to reach 10 wins. A lot of the blame was put on the offense, and Frank Beamer made some changes on that side of the ball, hiring a new offensive coordinator. Scott Loeffler comes over after being the offensive coordinator at Auburn last year. He is now in charge of an offense that was 83rd in scoring, and 83rd in yards per game.
Offense
Thanks to injuries and graduation, there is not a lot of offense returning this year. But the one constant is the enigmatic Logan Thomas. He was, well, enigmatic last season. He ran well enough to lead the Hokies in rushing with 524 yards, but his passing was way off from 2011. His completion percentage of 51.3 percent was eight percent lower than in 2011. He also threw 16 interceptions, six more than 2011 as well. He was also sacked 25 times last year, eight more than 2011. He will need some improvements from the offensive line, which does return a lot of experience. I do think there will be improvements there.
While there is experience at quarterback and on the offensive line, the skill positions are lacking experience. The top three receivers from last year are gone, and only one running back returns. With 19 receptions and 240 yards, Demitri Knowles is the leading returning receiver. The number two leading receiver returning is tight end Ryan Malleck, who caught 17 passes. Running back J.C. Coleman was third in receiving, and was the leading rusher from the running backs last season. He will likely split time with freshman Trey Edmunds. It would be best if one of these guys ended up leading the Hokies in rushing, rather than Logan Thomas leading the team.
Defense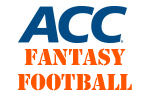 If there's one thing we learned from last season, it's never to doubt Bud Foster again. It wasn't the typical stifling Hokies defense you would normally see last year, but it was still a lot better than anyone expected. But this year you will see that stifling Hokies defense. Seven of the top eight top tacklers from last season are back, including the entire defensive line. This is one of the best defensive lines in the ACC, and you could argue it's among the best in the country. The four starters on the defensive line combined for 67 QB hits, and 31 QB hurries. None of them had more than five sacks, but they definitely kept quarterbacks on their toes.
If there are questions with Virginia Tech's defense, it's in the back seven. And that's really stretching it, because there aren't really many questions. With Antone Exum missing the start of the season, opposing quarterbacks might try to pick on Kendall Fuller early on. They won't be as tempted to pick on his brother, Kyle, unless he struggles. But they also have Kyshoen Jarrett, the second leading tackler on the team, and Detrick Bonner, behind them, and stud linebacker Jack Tyler in front of them. Tyler had 36 more tackles than Jarrett, and also led the Hokies in tackles for loss with 13. Like I said, saying there are many questions back here is nitpicking a little.
Special Teams
After being a little sluggish in 2011, the special teams was a lot better last year. Cody Journell was a pretty solid kicker, going 20-25 on field goals, and was 6-10 from beyond 40 yards. A.J. Hughes was a pretty solid punter as well, and the return game even had two returns for touchdowns. This will be better this year.
Schedule
The Hokies kick off the season playing Alabama in Atlanta, but after that, the other three non conference games are winnable, hosting Western Carolina and Marshall, and playing at East Carolina. In conference play, the Hokies play UNC, Pitt, Duke, and Maryland at home, and travel to Georgia Tech on a Thursday night, Boston College, Miami, and Virginia.
Prediction
A lot of Virginia Tech's success will depend on offense. For starts, Logan Thomas needs to be a lot better this year. He needs to cut down on turnovers, and not be the guy I dubbed "LOLgan" Thomas last year. Having a strong running game behind will help matters, but that's going to be a question mark early on. The defense should continue to wreak havoc, and you won't see the Hokies give up 30 or more points nearly as often as they did the past couple of seasons. Don't be surprised if the Hokies win a lot of close, low scoring games, but they will still win eight or nine games, and be in the Coastal Division title hunt.
More Previews