While it was a little more difficult than expected to get there, the Virginia Tech Hokies made a bowl for the 21st consecutive season. For the second consecutive year, the Hokies won single digit games (8). The last time Virginia Tech hasn't had consecutive double digit win seasons was 1997-98. In order to get to double digit wins this season, the Hokies will need to be much improved on offense, which hindered them at time last season.
Offense
The Logan Thomas era has finally ended, and in steps Texas Tech transfer Michael Brewer. The redshirt junior comes from a very pass happy offense to a more run based one. Brewer did play in 13 games over his two seasons with Texas Tech, throwing for 440 yards and five touchdowns. Should he not be up to the task, senior Mark Leal will be there handle the offense. He's played sparingly over his career, although he did get extended action in their bowl game last season against UCLA, but did not fare well.
Virginia Tech has been known to churn out a lot of all conference caliber running backs in the past, but over the last couple of years, the Hokies have struggled at that position. Some of it is because of a subpar average line, and some of it is the talent at the position. The Hokies found something last year in Trey Edmunds, and his 10 rushing touchdowns were more than the rest of the team combined. Unfortunately, he suffered a gruesome injury at the end of last season, and he's spent most of the spring and summer getting back to 100% from that injury. He will be splitting time with junior J.C Coleman, the team's third leading rusher, along with freshmen Marshawn Williams and Shai Mckenzie.
There's going to be big changes at wide receiver as well, as players with more experience have been moved down the depth chart in favor of younger talent. Another freshman, Isiah Ford, won one of the starting receiver jobs in camp, and along with sophomore Joshua Stanford, form a corps that does have some size and speed, but are tiny in the weight department. Stanford did catch 40 passes last season, which was third on the team. Leading receivers Willie Byrn and Demitri Knowles are back too, and they will play a lot in multiple receiver sets. At tight end, Ryan Malleck returns after missing 2013 with a torn labrum. He did start seven games in the first two years of his career.
Because the offensive line was not as good last year, there are quite a few changes for this year. There are some subtractions, but there are some new starters, and there is some shuffling along the line. Caleb Farris moves from guard to center, while David Wang moves from center to guard. Augie Conte moves in to start at the other guard spot, while Laurence Gibson and Jonathan McLaughlin remain at the tackle spots. The Hokies averaged 3.2 yards per carry last season, and allowed 33 sacks. Those numbers need to improve this season.
Defense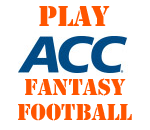 Bud Foster's defenses continue to be among the best in the nation. While they struggled by their standards in 2012, last year's defense was a lot better. They allowed 3.5 fewer points per game, along with 50 yards per game fewer on the ground. Only five starters return this year, however, with just one on the defensive line. That is defensive tackle Luther Maddy. The senior was fifth on the team with 55 tackles, but his 6.5 sacks led the team. Corey Marshall joins him in the middle after redshirting last season, but has started five games over his career. At defensive end, Dadi Nicolas gets the chance to start. He's been good as a role player for the Hokies in the past, as he tallied four sacks and seven tackles for loss last season. Sophomore Ken Ekanem will start at the other end. He played sparingly last season.
Where there could be some questions on Virginia Tech's defense is at linebacker. There is not a lot of starting experience back this year. Chase Williams has started one game in his career, while Ronny Vandyke has two, and Deon Clarke has yet to start a game in his career. All three are less than 220 pounds, so they are quick to get to the ball. Their lack of experience, however, will likely be an issue early on.
While the linebackers lack experience, the secondary is flush with experience. While both Brandon Facyson and Kendall Fuller are just freshmen, they were frequent contributors, with Facyson starting nine games, and Fuller starting 12. Both made the first team freshman All American team. Facyson had five interceptions and eight pass break ups, and Fuller had six interceptions, 11 pass break ups, and was fourth on the team with 58 tackles. At safety, Detrick Bonner returns after tallying 48 tackles last season. Kyshoen Jarrett, as the rover in the secondary, finished third on the team with 71 tackles. He also picked off two passes.
Special Teams
The kicking game could be a bit of a question mark this year, as Frank Beamer is relying on a freshman kicker. He named Michael Santamaria the kicker. The true freshman is a left footer. Punter A.J. Hughes returns to handle the punting duties. He averaged 44.1 yards per punt as a sophomore. Junior J.C. Coleman and Deon Newsome will handle kickoff returns, and Kyshoen Jarrett will handle punt returns.

Schedule
After what should be an easy game against William & Mary, the Hokies play Ohio State in Columbus, and that will not be an easy test for this Hokies team. The Hokies will also face East Carolina and Western Michigan as well in the non conference. In ACC play, the Hokies get Georgia Tech, Miami, Boston College, and Virginia at home, and face UNC, Pitt, Duke, and Wake Forest on the road.
Prediction
The biggest chore for Virginia Tech this season will be to improve on an offense that finished 102nd in total offense last season. We will know early on if there are signs of trouble with the offense. We know the defense will be stout as always, however. The Hokies do have a pretty easy schedule, and will likely be 4-1 when they hit the teeth of their conference schedule. How they fare on the road in these conference games will tell if they will win the Coastal Division. They will be in the mix, but I don't think they will win any more than nine games at maximum. They will go bowling for the 22nd consecutive year.
More Previews