Posted: 7/29/2014 9:52:33 AM
---
The 2013 season was a very average season for Georgia Tech. The Yellow Jackets won seven games for the second straight season, and went to a bowl game for a school record 17th straight season. After the season, quarterback Vad Lee transferred, and there were talks that Paul Johnson's job was in jeopardy. Johnson is back, hoping to improve on last season's performance, and bring the Yellow Jackets back to a bowl game for the 18th straight season.
Offense
Six starters return from an offense that averaged over 35 points per game, the highest average during Johnson's tenure. With Lee transferring, Justin Thomas looks to take over the starting quarterback spot. He did end running for the fifth most yards on the team last season with 234, and completed nine of the 17 passes he attempted for 131 yards, with one touchdown and two interceptions. Should he fail, junior Tim Byerly, a transfer from Middle Tennessee, will be there to run things.
With the top two rushers gone from last season, it's up to senior Zach Laskey to be the bell cow back. Laskey is the leading returning rusher this season with 485 yards and seven touchdowns from the B-Back position. The A-Backs are going to be different too, as you'll see Synjyn Days, Broderick Snoddy, B.J. Bostic, Deon Hill, Tony Zenon, and Charles Perkins get carries. Days and Hill are slated to be the starters at this point, but the other guys will see carries too.
Wide receivers are not a huge part of the Georgia Tech triple option offense, but the main receiver is usually a well built one. Deandre Smelter fits that billing at 6-3 and 225 pounds. He lead the team in receptions with 21, and his 345 yards was third. Darren Waller is also another receiver that will see time. He is 6-5 and 235 pounds, and caught 17 passes for 367 yards last season. Michael Summers is another receiver that will be in the mix as well, coming off of a 10 catch season.
The offensive line is going to have a bit of a new look this year, with three starters returning. Shaquille Mason is the most experienced starter on the line, with 26 career starts. He was also third team All-ACC last season. Bryan Chamberlain started seven games at tackle last year for the Yellow Jackets, and Trey Braun started eight games at guard. Center and one of the other tackle spots are a little up for grabs.

Defense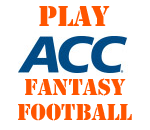 The Yellow Jackets defense will be hard pressed to repeat last year's output, allowing 22.8 points per game, which was the best since Paul Johnson's first season coaching the team in 2008. Just four starters return on defense this year, with just one back on the defensive line. The key loss was Jeremiah Attaochu, who did pretty much everything for the defense last year. The lone starter back on the line is Adam Gotsis, who was second on the team in sacks last season with 5.5. The rest of the defensive line is inexperienced in terms of games started, The line won't be as good this year.
With the majority of the defense gone from last year, it will be up to senior Quayshawn Nealy to be the leader of the defense. While he regressed in his tackle numbers from his sophomore to his junior year, he was still an impact linebacker for the Yellow Jackets, picking off two passes, and recovering two fumbles. It will be up to him and junior Tyler Marcordes, who also picked off two passes last season, to anchor the middle of Georgia Tech's 4-2-5 defense.
If Georgia Tech is going to make an improvement this season, they need to improve on the pass defense. The Yellow Jackets ranked 97th in yards allowed. They do get Isiah Johnson back this year after missing last season with a knee injury, plus Jamal Golden returns after getting injured in the third game of the season, and missing the rest of the year. Junior D.J. White was the healthiest member of the secondary for the Yellow Jackets, and he ended up finishing fourth on the team in tackles. Demond Smith is also back, and with some health in the secondary this season, the pass defense should improve.
Special Teams
Paul Johnson is not afraid to go for it on 4th down, and that will take field goal opportunities away from Harrison Butker. Butker was just 10-14 on field goals last season, with all four misses from beyond 30 yards. With the graduation of Sean Poole, Ryan Rodwell will take over the punting duties. The sophomore actually punted six times as a freshman before redshirting and sitting out last year. As far as the return game goes, Jamal Golden is slated to handle both, although you may see quite a few different people handle kickoff returns this season.
Schedule
There should be no reason Georgia Tech comes out of the first three games without anything other than a 3-0 record. The Yellow Jackets open up with Wofford at home, before playing Tulane, then hosting Georgia Southern in what might actually be an interesting game, considering Paul Johnson's prior ties to Georgia Southern. The ACC schedule will be very tough for the Yellow Jackets, as they travel to Virginia Tech, then after a bye, get Miami and Duke, before taking on UNC and Pitt on the road. The final two games of the season against Clemson and at Georgia will be very tough.
Prediction
A lot will be riding on the legs, and the arm occasionally, of Justin Thomas. He's another in a long line of Georgia Tech quarterbacks that have had a little hype, but not many have met those expectations. Thomas did show some flashes in limited playing time last season, but he will need to sustain that success for the long haul. The offense will not be a huge issue this year, but the defense will be the big question, with so few starters pack, and not a lot of experience. There's an outside chance that Paul Johnson could be in a little trouble if Georgia Tech doesn't make a bowl this season, but I think they will get enough wins to go back to a bowl for the 18th straight season.
More Previews
---