Posted: 8/11/2014 9:53:22 PM
---
It would have been difficult to imagine UNC having a successful season based on the first six games of the 2013 season. A 1-5 start made the possibility of a bowl game very bleak. But that's why you keep playing the games. After the 1-5 start, the Tar Heels won five straight to become bowl eligible, ultimately finishing the season 7-6 after winning the Belk Bowl. This season looks a lot more promising, with 14 starters back, plus an up and coming quarterback.
Offense
Losing Bryn Renner in the middle of the season proved to be no big deal for the Tar Heels, as Marquise Williams kept the offense humming in Renner's offense. A dual threat quarterback, Williams proved to be the spark the UNC offense needed, leading the team in rushing with 536 yards, while throwing for 1698 yards, with 15 touchdowns and six interceptions, while completing 58% of his passes. However, according to coach Larry Fedora, he is not guaranteed to be the starter, as he is in competition with redshirt freshman Mitch Trubisky for the job. Don't be surprised if UNC implements a two quarterback system again this year, as was done last year with Renner and Williams before Renner's injury.
One thing UNC likes to do on offense is rotate running backs. You will see four running backs rotate in during the course of the game. No UNC running back even had 100 carries last season. T.J. Logan was the best of the running backs, running the ball 93 times for 533 yards and four touchdowns. Logan also averaged 5.7 yards per carry, which was the best on the team. Also back are junior Romar Morris and sophomore Khris Francis. Morris rushed for 296 yards and five touchdowns, while Francis ran for 236 yards. Also look for highly touted freshman Elijah Hood to come in and get some carries as well.
The Tar Heels return four of their top five receivers from last season, but the one was a first round pick in the NFL Draft. Eric Ebron was an elite tight end, and was relied upon heavily. Ebron's loss won't be made up for by one single person, but the experience back will make up for it some. UNC is going from a tight end who caught 92 passes last season to Jack Tabb, who had just seven receptions last season. Where UNC will make up for it is at wide receiver. Quinshad Davis was a touchdown scoring machine for the Tar Heels last season, scoring 10 times, while catching 48 passes for 730 yards. Ryan Switzer caught 32 passes for 341 yards and three touchdowns, while T.J. Thorpe and Bug Howard were also solid options in the passing game. Thorpe caught 24 passes, while Howard caught 22.
Offensive line could be a bit of a question this year, as two long time starters, James Hurst and Russell Bodine, are gone. There is some experience back, however, with guards Landon Turner and Caleb Peterson returning, along with tackle John Heck. All three started at least 12 games last season. Lucas Crowley is slated to start at center this year, but he has one game of starting experience in his college career, and the expected starter at left tackle, John Ferranto, has not started a game in his career.
Defense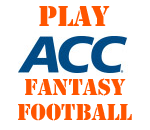 The best way to describe UNC's 4-2-5 defense was bend, but don't break. The Tar Heels gave up 403 yards per game, but only allowed 24.5 points per game. The biggest weakness was stopping the run, as UNC allowed 182 yards per game on the ground. The down side is that the defensive line may take a step back this year, as two starters are gone, and one of them was the team's third leading tackler, and led the team in sacks and tackles for loss. Getting Norkeithus Otis back is a big win for the defensive line. The hybrid defensive end/linebacker was second on the team with 7.5 sacks, and in tackles for loss with 14. Defensive tackle Ethan Farmer returns as well after registering 30 tackles last season.
One of the two linebackers will be back for UNC this season. Travis Hughes was fifth on the team with 76 tackles, while registering 5.5 tackles last season. The new starter at linebacker will be Jeff Schoettmer, who was second on the team with 85 tackles. Look for sophomore Nathan Staub to see some time as well.
Secondary will have a slightly new look this year as well. There will be new starters at both cornerbacks this season, while the starters at the RAM position, along with both safety positions, are back. Malik Simmons, Dominique Green, and Tim Scott are the returning starters. Green was the leading tackler among the trio with 59, while Green had three interceptions, and Scott had two. The new starters at cornerback will both be sophomores. Brian Walker did start three games, while Desmond Lawerence played in eight games.
Special Teams
The kicking game will need to be a bit better this season. Thomas Moore was 14-19 on field goals last season, but was 1-5 from beyond 40 yards. Tommy Hubbard had a pretty good season punting, averaging over 43 yards per punt, which was top 30 in the nation. The return game, however, was the difference maker for UNC, as Ryan Switzer returned five punts for touchdowns last season, so clearly teams didn't get the memo not to kick to him. Meanwhile, T.J. Logan brought two kicks back for touchdowns. Both will be back fulfilling those duties this season.
Schedule
An odd mix of teams open up the UNC season, as the Tar Heels host Liberty and San Diego State, before traveling to cross state rival East Carolina, then hitting conference play. UNC also gets Notre Dame on the road as part of Notre Dame's partial ACC schedule. In conference play, UNC gets Virginia Tech, Georgia Tech, Pitt, and NC State at home, while going on the road to face Clemson, Virginia, Miami, and Duke.
Prediction
The first two seasons of the Larry Fedora regime have brought offenses that can score in bunches. The Tar Heels have averaged 36.6 points per game in the two seasons. It would not surprise me if they surpassed the 30 point per game mark again this season, as the offense still brings back plenty of weapons on offense,with the dual threat ability of Marquise Williams leading it all. The defense is not great, but is capable of making stops when needed. Special teams, especially the return game, could be among the best in the nation again this year. Because there is no elite team in the Coastal Division of the ACC, UNC will be in the hunt to win the division. I think they can win eight games this year and make another bowl.
More Previews
---