Although it may have just started, Duke basketball has already had a crazy summer on the recruiting trail. After an early exit in the NCAA tournament this past spring, and missing out on various top targets in the 2012 recruiting class, many people were pushing the panic button on Duke's spot among the college basketball elite. But after the disheartening couple of months Mike Krzyzewski came back strong with huge commitments from Amile Jefferson, a foward who rounded out Duke's 2012 class, and most recently Rodney Hood. Hood was arguably the most coveted transfer player this year and is thought of as a potential lottery pick in the future.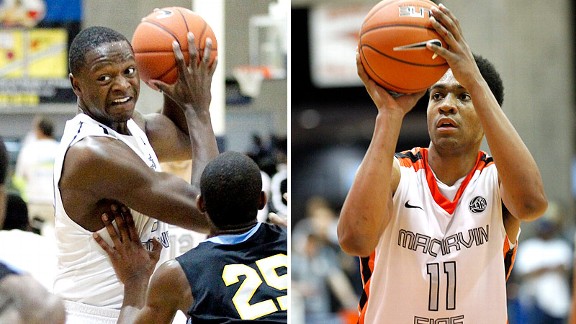 Despite the fact that Coach K and assistant coaches Chris Collins and Steve Wojo will be away preparing and coaching the Olympic team in the upcoming summer games, Duke is still expected to have a very busy summer on the recruiting trail. During this time they will have the opportunity to hone in on the prospects in the upcoming 2013 class, as well as continue to scout prospects in the 2014 class. Duke currently has eight scholarship offers out in the 2013 class. With the other Duke coaches being tied up due to the Olympics, this leaves the primary summer recruiting responsibility to Blue Devils assistants Jeff Capel and Nate James. This article will outline and provide information on Duke recruits and commitments from the 2012-2014 classes.
2012 commitments (2): Rasheed Sulaimon (12), Amile Jefferson (21)-The 2012 recruiting class has been completed and incoming freshmen Sulaimon and Jefferson arrived on Duke campus for summer classes July 1st. They will also be participating in the NC Pro Am summer league, which holds games on Tuesday and Thursday nights on the campus of NC Central.
Rasheed Sulaimon (Committed)- 6'4 guard, Houston, Texas - Sulaimon is part of Duke's two man incoming freshman class. With the departure of Austin Rivers to the NBA, Sulaimon figures to be an important piece in Duke's backcourt next season. There are high hopes for the Texas guard, who is known for his tough on-ball defense, shooting, and balanced offensive skill set. He has the ability to make an impact on both sides of the ball. This and his well rounded style of play have earned him comparisons to former Blue Devils guard and first round NBA draft pick Nolan Smith. Sulaimon's biggest impact upon arriving at Duke may be his perimeter defense, and ability to apply ball pressure. Looking back at the struggles that Duke guards had on defense last season, Sulaimon should provide some relief in that aspect. His strong defense should also allow Coach K to more effectively execute the pressure defense that he prefers. The success of this style of defense is often dependent upon the ability of the guards on the floor to apply pressure to the ball, get in the passing lanes, and not allow their man to beat them off the dribble. These are all things that Duke guards struggled with last year. With Sulaimon's strengths being ball pressure and staying in front of his man, he should help improve Duke's perimeter defense and ball pressure and ensure that Coach K's uptempo, high pressure style defense is more effective then it was last season. Sulaimon participated in the McDonalds All American game, the Jordan Brand Classic game, as well as the Nike Hoop Summit game. On June 9th he was selected to the USA U18 National Team, where he averaged 10 points per game and helped lead a talented USA squad to a gold medal. On July 1st Sulaimon arrived on Duke campus to to begin summer classes. He will also be participating in the NC Pro Am summer league games, playing for Team Dreamworks.
Amile Jefferson (Committed)- 6'8 power foward, Philadelphia, Pennsylvania - Jefferson committed to Duke in May, bringing an end to a string of negative situations that the Blue Devils had been dealing with, on the court and with recruiting. His commitment was a huge one for Duke, after failing to close on other top 2012 prospects they had put much time and energy into recruiting. Jefferson will join a Duke front court that includes returning seniors Mason Plumlee and Ryan Kelly, junior Josh Hairston, and redshirt freshman Marshall Plumlee. The 6'8 power foward should get decent minutes, but due to his skinny frame, may not be ready to contribute significantly right away. He will definitely have to spend a good deal of time in the weight room to add muscle and strength that will enable him to hold his own physically against power fowards in the ACC. Although many believe he may not reach his full potential as a player until he is a junior or senior, what you know you will get straight away from Jefferson on the court is hustle, hard work, a great motor and smart basketball. Another positive is that he is long and has quick feet which enables him to guard the three spot as well as the four spot. Jefferson is athletic but does not have elite athleticism. He is extremely smart, skilled and crafty and that along with his length enables him to face up and find ways to beat the defense and score consistently around the rim. He is a good rebounder and defender, although both these things and his offense will improve as his strength does. What seems to stand out the most about Jefferson on the court is how smart he is when he plays. Jefferson like Sulaimon participated in the McDonalds All American Game and arrived on campus for summer classes July 1st. He is set to play in the NC Pro Am summer league for Team Dreamworks.
Class of 2013: Commitments (2)-Matt Jones #19, Rodney Hood #16 (in the class of 2011, transfer)
Recruits- (9)- Jabari Parker #1, Julius Randle #2, Semi Ojeleye #33, Ishmail Wainright #18, Robert Hubbs #11, Austin Nichols #30, Allerik Freeman #36, Marcus Lee #27
Matt Jones (Committed)- 6'5 shooting guard, DeSoto, Texas - Matt Jones became the first Blue Devils in the class of 2013 when he committed this past fall. Jones, a five star guard, has good size for a shooting guard, length and is a good athlete. Many who describe him refer to him as what a prototypical shooting guard should look like. Jones is a pure shooter, arguably the best in high school from beyond the arc and has a very smooth game. Along with his efficiency shooting threes, Jones has had success putting the ball on the floor for one and two dribble pull-ups. Recently he expressed his desire not to only be known as a three point shooter, and has been working hard on his handle and gaining strength. The work he has put in showed when he competed in the Nike EYBL, where he showed he gained strength, explosiveness, and ability to put the ball on the floor and finish at the rim. Although his ball handling and driving ability have improved, and he is no longer a one-dimensional player, he could stand to continue to improve upon both those areas of his game before arriving at Duke. Jones will be a good player at Duke, he fits into the style Coach K likes to play perfectly, but if he can make getting to the rim a strength, he will be a very dangerous player. Jones' good size and length are both qualities that help him be a good defender and rebounder out of his position. Jones will enter his final season at DeSoto High School next year as the lone senior on his team.
Rodney Hood (Committed)- 6'8 small foward, Meridian, Mississippi - Just last week, Duke scored a big commitment from arguably the most sought after transfer available this offseason, Rodney Hood. Hood played his freshman season of college basketball at Mississippi State University, under head coach Rick Stansbury. Hood had a successful freshman campaign, averaging ten points per game. His first season led most to believe he had a very promising future at MSU, but when Stansbury was fired, Hood decided that he was going to transfer. Hood took his time choosing his next school, and the choice eventually came down to Duke and Ohio State. He visited both schools before committing to Duke. Because of transfer rules, Hood must sit out the upcoming 2012-2013 season before being able to play in 2013-2014. Hood is an important pickup for Duke as he fills a need the Blue Devils have for a tall, athletic and versatile player. Offensively his most dangerous weapon is his mid-range game, although he also shoots the three ball well (36%) which makes him dangerous at his size. He is also a capable driver, but must add strength and muscle to his frame improve his ability to absorb contact around the rim and finish. This is where the year Hood has to sit out may actually come in handy, if he uses the time to improve his body. Hood also has good court vision and is an impressive passer for his size and position. Hood is a potential future lottery pick, and if he plays to his potential he could possibly only play at Duke for one year before deciding to enter the NBA Draft. He arrived on Duke campus early July, shortly after committing. He was not on campus long before leaving to join new Duke frontcourt teamates Mason Plumlee and Ryan Kelly at the LeBron James Skills Academy, in Las Vegas.
Jabari Parker (Offered)-6'8 small foward, Chicago Illinois - Not much can be said about Jabari Parker that hasn't already been said. He is the consensus #1 player in the class of 2013, and one guy that every college team wants. Parker's versatility and high level of skill at such an early stage in his basketball career is what sets him apart from his peers on the court. Now that he is going into his senior year of high school and is added strength and explosiveness to his frame he is even more dangerous of a player. Off the court Parker isn't your average Division One basketball recruit. He is Mormon and very devoted to his religion in a way that not many people his age are. Duke has been recruiting Parker for a long time and as of now, most believe that Michigan State and Duke may be in the drivers seat for Parker, with MSU having the slight edge. Parker and his family have indicated that he could make a decision on a college this fall, but would not be opposed to waiting until the spring if they feel that the extra time is needed. One thing we do know is that they will not rush this decision, so we could be in for a long wait. Other schools like Ohio State, Northwestern, DePaul, North Carolina, Illinois, Kansas, Louisville, and Kentucky among others have also offered Parker.
Julius Randle (Offered)- 6'9 power foward, Dallas Texas - Julius Randle is without a doubt one of the most sought after recruits in the 2o13 class. He joins Jabari Parker as the top two prospects in their class, and is another player that any college would kill to get a commitment from. Simply put, Randle is a beast and a game changer. He is a man among boys on the court. Randle is not a back to the basket big, he gets most of his points by catching the ball anywhere between the block and the foul line and facing up. He uses his size (6'9, 240lbs), strength, explosiveness and athleticism combined with incredible body control and quickness for a player inside to get to rim and score. Many of those trips to the rim end with thunderous dunks. Randle is also not afraid of banging around down low or finishing through contact. He has a good short jump shot and a good handle for a player of his/size position. Randle would be a good fit at Duke and for Coach K, especially since he reminds many people of another Duke foward, Elton Brand, who was the National Player of the year and the #1 pick in the NBA Draft. Randle is also best friends and teamates with fellow 2013 prospect and Duke commit Matt Jones on their AAU team the Texas Titans. There are many schools in the running to get a commitment from Randle, but out of them all North Carolina, Duke and Kentucky are thought to be the leaders. Others include Baylor, Kansas, Texas TCU, Oklahoma, Ohio State, and Missouri. Randle could decide on a college this fall but most expect a spring decision from him.
Semi Ojeleye (Offered)- 6'6 small foward, Ottowa, Kansas - Semi Ojeleye is a fairly new prospect to emerge on Duke's radar. Despite this many believe Duke could be the team to beat for the talented small foward from Kansas. Ojeleye caught Duke's attention at Nike EYBL a few weeks ago, where he had an impressive showing. Shortly after, Ojeleye took an unofficial visit to Duke on June 9th, where he officially received an offer from the Blue Devils. His father told The Kansas City Star shortly after the visit that Duke is his son's "#1 school right now." Although the visit made quite an impression on Ojeleye, he is not expected to make a college decision any time soon. On and off the court, Duke has proved a good match for Ojeleye, who takes school and his grades very seriously. Both of his parents are doctors who stress the importance of education, and his brother played basketball at, and graduated from Kansas-State with a perfect 4.0 GPA. Ojeleye has stated that he also plans to graduate college with a 4.0 GPA. On the court, Semi is a versatile player. He has a nice stroke from three point range, and is adept at slashing to the basket. He is strong, athletic and explosive, which helps him finish in the paint, even through contact. One aspect of Ojeleye's game that he could improve would be his ball handling, which could help him be even more effective off the dribble. Ojeleye is valuable because although he is a small foward, he is strong and tough enough to be utilized as an undersized power foward. This would be an advantage, since he would be abled to take advantage of his quickness and perimeter skills against the out of position 4 man guarding him who is not used to having to guard his man out to the three point line. Ojeyeye is an effective rebounder and good defender. Other schools still well in the running for Ojeleye are Arizona, Illinois, Indiana, Kansas, Kansas State, Missouri, Oregon, Stanford, UCLA, and Wisconsin.
Ishmail Wainright (Offered)- 6'6 small foward, Raytown, Missouri - Ishmail Wainright is another recruit that is fairly new for the Blue Devils. Much like with Semi Ojeleye, the Duke coaches were impressed with Wainright when they saw him during the first few rounds of the Nike EYBL. This led to Coach K calling Wainright in April with an offer to Duke. Wainright's game is centered around the strength and power he brings to the court. This strength helps him be an excellent defender and rebounder. Wainright absolutely has the ability to be a true impact player on the defensive end. He is tough, hardworking and has hard to find intangibles that every coach looks for in a player. Wainright is also an impressive passer, a quality that can be attributed to his above average court vision. This passing and court vision enable him to facilitate and create open shots for teammates and make things happen on the floor. Offensively Wainright is a good slasher, and his strength and physicality ensures that he finishes well through contact and is not afraid to bang around in the paint in order to score. Right now Wainright's biggest weakness is his outside shot, which he needs to work to improve. His shot is not terrible but its not particularly good either, and adding that aspect to his offensive repertoire would only make him more dangerous and valuable. Wainright had previously verbally committed to Missouri on May 8, 2011. Only a month after committing he decided to decommit from Missouri and re-open his recruitment. Duke has since entered the picture and become a major player in Wainrights recruitment. Wainright currently lists Florida, Syracuse, Baylor, UCLA, Ohio State, Oklahoma State, Texas, Arizona, and NC State as schools he isnterested in but hinted that he remains open to other schools if they were to get involved. Ishmail recently suffered a broken foot, and will must likely be out recovering for most of the summer. He is expected to make a late decision this coming spring.
Robert Hubbs (Offered)- 6'5 shooting guard, Newbern, Tennessee - Not many people knew who Robert Hubbs was when this summer began, and very few considered him an elite prospect. But now Hubbs is just that, an elite prospect. He has made huge strides in his game, resulting in a startling jump in the rankings, and attention from some of the top basketball programs in the country, including Duke, who offered along with many other schools, offered him this past spring. Lately, Hubbs' stock has gone through the roof. Hubbs also happens to be AAU teamates with fellow Duke prospect Austin Nichols. Hubbs is a dynamic offensive player. He is most well known for his well above average athleticism, which helps him finish around the rim, often with impressive dunks. He is an excellent slasher and is adept at getting to the rim and finishing plays. Lately he has expanded his game and taken it to another level. He has improved his outside shot as well as his ball handling two things that were considered parts of his game that he needed to work on in the past. Hubbs' other offers include Arkansas, Auburn, Florida, Georgia, Memphis, Mississippi State, Missouri, Ole Miss, Murray State, Tennessee, and Vanderbilt.
Austin Nichols (Offered)- 6'8 power foward, Eads, Tennessee - Duke has had their eye on Austin Nichols for quite some time. They finally pulled the trigger and offered him this past spring. Nichols is a lanky, skilled power foward. He has the fundamentals down, which enables him to score with his back to the basket as well as with a short jumper. He runs the floor very well for a big man and is a solid rebounder. In a class where good big men are at a premium, Nichols is a coveted prospect. Nichols is not the most athletic player but he is not below average in that aspect either. He is very thin now, but has wide shoulders which indicates that he will be able to put on a good amount of muscle in the near future, which should improve many aspects of his game. Nichols has made it no secret that he is very high on Duke and that he thinks the Blue Devils would be a great fit for him. Because of this, Duke was hoping they may have gotten a quick commitment from him shortly after they offerd. Unfortunately it seems as though Nichols is going to take his time in the recruiting process, take his visits and take a close look at all of his options. Another strong player in this recruitment is Tennessee, a school in his home state, that has been recruiting him aggressively for a long time. Aside from Duke and Tennessee, Nichols has an abundant list of offers including Auburn, Butler, Cincinatti, Clemson, Kansas, Louisville, Memphis, North Carolina, Ohio State, Texas and Vanderbilt.
Allerik Freeman (Offered)- 6'4, combo guard, Charlotte, North Carolina - Allerik Freeman is yet another player that was on the receiving end of Duke's Oprah like offer spree this past spring. Freeman is a strong, physical, athletic player that can be used at both the shooting guard and point guard spots. He uses his exceptional upper body strength and physical style of play get into the lane, slash to the basket and finish at the rim though contact. He has range out to the three point line and is a fairly versatile player. Because of his strength and versatility, he may also be used at the shooting guard spot in college. Freeman is also a good passer and facilitator. He is adept at creating open looks and opportunities for his teammates as well as himself. It is a big advantage to have a player at the two or three spot (if he were to be used at either) that is able to facilitate like Freeman does, and these skills make him a capable point guard. One thing he must work on is his consistency on the court. Freeman currently has a list (in no specific order) of Kansas, Duke, Ohio State, UCLA and Villanova. Recently, Freeman decided to transfer from his previous school Olympic HS to Findlay Prep, one of high schools basketball powerhouses, for his senior season.
Marcus Lee (Offered)-6'9 center, Antioch, California - Marcus Lee was a somewhat unexpected target for Duke. It surprised many when Duke offered Lee after an impressive showing at Nike EYBL, only because it was not apparent that he was on the Blue Devil's radar. Duke was not the only school to take notice of Lee's performance at EYBL. It earned him attention from many other schools, and he now has a list of offers including Arizona, Arizona State, Arkansas, Boston College, Kansas, Kansas State, N.C. State, Texas A&M, UCLA, USC, Virginia Tech and Washington among many others. Lee is the type of player that Duke has not had in a long time. He is a long, smooth and explosive athlete that runs the floor like a gazelle, and specializes in shot blocking. His length, athleticism, and timing allow him to get his hands an a high number of opposing players shot attempts, making him a very effective rim protector. He is also a great rebounder, which lends itself to the high energy and effort be brings to the court every time he plays. One aspect of Lee's game that Coach K was impressed with when watching Lee play was his great motor. At this point in his basketball career, Lee is still a very raw offensive player, but the motor he has is apparent every time he plays, as is the extremely high ceiling he has. If Lee can improve on his offensive foot work and post moves, he has all the tools to be a very effective offensive player. Another thing he must do, like many other prospects his age, is add strength and muscle. Although Lee grew up a UNC fan, he is very open to being recruited by Duke, and seems to have begun to build a strong relationship with Coach K. He is still considering many schools and has not yet made a move to cut down his list.
2o14 Recruits (5)- Theo Pinson #13, Tyus Jones #3, Jahlil Okafor #2, Justice Winslow #11, Jaquel Richmond #41
Theo Pinson (Not offered)- 6'6 small foward, Greensboro, North Carolina - Duke has been keeping a close eye on Theo Pinson for quite some time now. He has already visited their campus multiple times, and admittedly grown up a fan of the Blue Devils. Pinson has yet to receive an offer from Duke, but he is known as a recruit they hold in high regards in the 2014 class, and is expected to eventually get one. Pinson is aware of this as well, and has expressed a very high level of interest in Duke, as well as understanding that Duke is focused on the 2013 class right now, and may have to wait until 2014 is the incoming class to get an offer from the Blue Devils. Despite all of this Pinson is a great young player and prospect. He possesses an elite level of athleticism that not many players have. He is long and explosive at the small foward spot and can score in a variety of ways. Not many can stop him slashing to the basket and getting to the rim, and he has recently shown he can consistently knock down shots from three point range. He also has a polished mid-range game, especially for a player his age, which complements his slashing and outside shooting. What sticks out about Pinson is is ability to have a big impact on both sides of the ball. His length, athleticism and effort make him a terror on the defensive end. He can be a lockdown defender on at the next level if he puts his mind to it, and makes it a point of emphasis. Besides Duke, Pinson already has the attention of many of the top basketball colleges in the nation. He has offers from UConn, Clemson, Georgetown, Kentucky, Marquette, N.C. State, Ohio State, South Carolina, Tennessee, Virginia Tech and Syracuse and interest from many other schools.
Tyus Jones (Offered)- 6'1 point guard, Apple Valley, Minnesota - Tyus Jones is the ultimate floor general. He is a point guard in the purest form and Coach K has made it known that Jones is the guy he wants running his team. Jones is a special player because of his innate ability to make everyone on the floor around him better. He is not the biggest, strongest or most athletic, but he has a feel for the game, and natural leadership ability that simply cannot be taught. He is an excellent passer, and his court vision is out of this world. He is a true leader for his team, a guy that knows how to run an offense smoothly, finding holes in the defense and creating constant easy scoring opportunities for his teammates. Jones is also a great scorer. He can stroke it from deep and is adept at slashing to the basket where he is crafty and skilled enough to finish at the rim (or dump the ball of to a teammate for an easy bucket.) Jones is already being recruited aggressively by a host of schools. He has offers from Duke, Baylor, Arizona, Michigan State, Iowa, Iowa State, Marquette, Ohio State, Providence, Nebraska, and Minnesota. Jones and fellow 2014 Duke recruit, big man Jahlil Okafor have expressed their desire to go to the same college. They seem fairly serious about this intention, but nothing is ever for sure in recruiting. In no particular order Ohio State, Duke and Michigan State are thought to be the early leaders for Jones' services.
Jahlil Okafor (Offered)- 6'10 center, Chicago, Illinois - Jahlil Okafor is a special player. He is already one of the most sought after players in the country, and one of the top big men regardless of class. He also happened to be the first 2014 player that Coach K offered. Okafor has a huge body, and at 6'10, 270 lbs, he tends to have his way in the paint. He is true back to the basket big, which are becoming less and less common in today's game. His size combined with great length, an assortment of post moves, unheard of mobility for a player his size, touch around the basket and soft hands make Okafor a dominating force down low. He has also developed a short jumper that he can knock down with consistency. Okafor is an excellent rebounder, his size again being a huge positive factor in this aspect of his game. Okafor already has a slew of top schools in the nation battling for his services. His offer list includes Duke, Arizona, Arkansas, UCONN, DePaul, Georgetown, Illinois, Iowa, Kansas State, Michigan State, Missouri, North Carolina, Ohio State and Wisconsin. This past June-beginning of July, Okafor helped lead the USA U17 team to a gold medal in the FIBA U17 World Championships, winning tournament MVP in the process.
Justise Winslow (Not offered)- 6'5 small foward, Houston, Texas - Within the last few months, Justise Winslow has made his way onto Duke's radar. Winslow is a very talented young player with a versatile offensive game and elite athleticism. The left hander gets to the rim with ease, using great handle and quick first step which allow him to beat defenders off the dribble. Winslow uses his explosiveness and athleticism to finish at (and often above) the rim through contact. He can knock shots down from three consistently and is a good passer with great court vision, basketball IQ and feel for the game. Winslow is sought after by many schools, and has offers from Arizona, Arizona State, Baylor, Harvard, Florida, Houston, Oklahoma State, Rice, Texas, Texas A&M and UCLA.
Jaquel Richmond (Not offered)- 6'1 point guard, Greensboro, North Carolina - Richmond is another 2014 point guard prospect that Duke has expressed interest in, although Coach K has made it clear that Tyus Jones is his top target. Richmond is strong, tough and quick. He is tough to stop slashing to the basket, where he can either finish himself or dish to a teammate for an open look. He is a good leader on the floor, and know how to run an offense smoothly. His outside shot needs some improvement, but he is capable of knocking down long range looks. What needs work is his release, which is pretty slow, and becoming a bit more consistent from the three point line. Richmond is not the biggest, player, but he is a great point guard prospect and someone Duke will keep their eye on. Richmond has already taken an unofficial to Duke. He attended the previous season's Countdown to Craziness.
This article was originally published at http://DukeHoopBlog.com. If you are interested in sharing your website's content with SCACCHoops.com, Contact Us.