Year 3 could be the turning point in Al Golden's tenure in Coral Gables. With their fate with the NCAA somehow still up in the air, there is quite a bit of uncertainty still surrounding the once dominant Miami program. Last year's 7-5 season was a step in the right direction, with this year being the Canes' chance to make a breakthrough. The offensive firepower is undoubtedly good enough to win the Coastal Division, but major strides will be needed from the defense.
Offense

As stated before, the offense is the reason for optimism around the program. Much of that credit goes to senior quarterback Stephen Morris. Morris had somewhat of a breakout year as a junior, ending a long stretch of shaky play at the position for the Canes. If Morris can continue the progress he made in the final third of the season, where he did not throw an interception, he could end up as a first round pick in 2014.
Miami unleashed running back Duke Johnson as a freshman, and he has become a star in the conference. Johnson finished with 947 yards and 10 touchdowns on almost 7 yards per carry. Behind him, fellow sophomore Dallas Crawford looks to get some touches as well. At receiver, the Hurricanes have a few very talented options. Phillip Dorsett had a big sophomore season with 58 catches for 842 yards. Combining with Dorsett in the aerial attack are Allen Hurns and Rashawn Scott. Both Hurns and Scott provide the size to counter Dorsett's speed. Junior Clive Walford could be in line for a big year at tight end after emerging as an option in the passing game last season.
With all five returning starters, comprised of two juniors and three seniors, the offensive line is huge position of strength for this team. If tackle Seantrel Henderson can live up to his potential, this could be a serious unit of strength. This group paved the way for the fifth most yards in the ACC last season.

Defense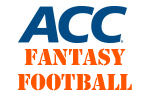 After finishing 116th in the country in total yards allowed in 2012, it is painfully obvious that Miami will need to make major strides on this side of the ball. The improvement will need to start up front, where there has been plenty of talent, but not nearly enough production. Potential star defensive end Anthony Chickillo had a small sophomore slump, but all indications are that he will pick up where he left off as a freshman. The other three spots on the line are manned by two seniors and a junior, so there is no lack of experience with this unit. However, someone needs to produce more than 4 sacks this season (Chickillo had that number, the highest among returning players).
The linebackers have the look of a group ready to show out this year. Middle linebacker Denzel Perryman is the top returner from this unit, with 64 tackles as a sophomore. The outside spots have lots of options, but it does not appear as if anyone has secured the starting spots just yet. Sophomore Raphael Kirby and freshman Alex Figueroa look to be the leaders at this point. More experienced options Tyriq McCord, Thurston Armbrister, and James Gaines could take over if the projected starters do not perform.
The defensive backs are similar to the Canes' linebackers in that they are long on talent but short on experience. Junior Ladarius Gunter and sophomore Antonio Crawford are the projected starting cornerbacks as of now, but a former five star recruit, sophomore Tracy Howard, could work his way into one of these spots. Sophomores Deon Bush and Rayshawn Jenkins should be the starters at safety in 2013. Both bring great size (over 200 lbs) and a year of extensive playing time to the table. Seniors Kacy Rodgers and A.J. Highsmith provide them with experienced backups. This unit has a wealth of talent, but need to force more turnovers this season for the Canes to be more successful.

Special Teams

Kicker Matt Goudis will take over for the steady, but unspectacular, Jake Wieclaw. Goudis was highly recruited for a kicking specialist out of high school and reputedly has a strong leg. Senior Pat O'Donnell will assume the punting duties. Phillip Dorsett and Duke Johnson represent major threats in the return game, but it will remain to be seen how much they are used here considering their importance to the offense.

Schedule

Out of conference, Miami has a pretty balanced schedule. Home dates with Florida Atlantic and Savannah State sandwich a big matchup with Florida at home. The Canes close out their non-conference schedule with a trip to South Florida, which could prove tricky. In the ACC, Al Golden's troops will host Georgia Tech, Wake Forest, Virginia Tech, and Virginia. Trips to UNC, Florida State, Duke, and Pitt will prove challenging.

Prediction

There's no doubt been gradual success within the Miami program over the last two years, but this season is the chance for the Canes to make that next step with a good mix of experience and talent expected to be on hand. The schedule is relatively tough for an ACC squad, but it is manageable. If the offensive trio of Morris, Johnson, and Dorsett step up and the defense plays respectably, a ten win season is not out of the question. In the end, I see Miami winning eight, maybe nine, games and challenging for a spot in the ACC Championship game. The pieces are there, there are just a few too many question marks for me to see them going any higher than nine wins in the regular season.
More Previews